Dr. Lisa Kodadek
Thank you to Dr. Lisa Kodadek for supporting the EAST Development Fund!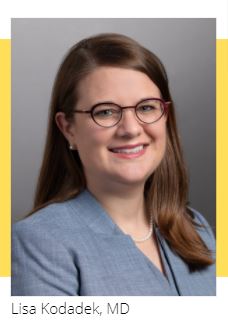 Donor Story
I receive far more from EAST than I could ever hope to contribute. I donate to EAST because I believe this organization seriously and dutifully serves its mission. It is the only organization committed to the professional development of young trauma surgeons, and it has allowed me, a young trauma surgeon, countless opportunities to learn, contribute, and improve the care of our patients through scientific discovery.
I joined this organization as a surgical resident after encouragement and sponsorship from an EAST member. I have found EAST to be a welcoming community of individuals with similar passion for trauma care; EAST gives us purpose and direction in our efforts as a community.
I am grateful for the opportunity to give back to the organization that has given me so much.

To learn more about Lisa Kodadek, MD, FACS and connect, please visit the EAST Member Directory from your EAST member profile.
---
Interested in sharing your EAST donor story with our community? Please submit the following form online. If you have any questions, please contact us.