Dr. Mark Seamon
Thank you to Dr. Mark Seamon for supporting the EAST Development Fund!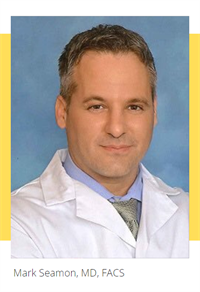 Donor Story
Asking why I want to give to the EAST Development Fund is a bit like asking why I want to play with my kids or help them with their homework. The easy answer is that it's the right thing to do—but really it's much more than that.
The EAST mission statement reads that "EAST is a scientific organization providing leadership and development for young surgeons…" Donating to the EAST Development Fund facilitates every facet of young surgeon development from leadership skills, to research pursuits, to the knowledge and understanding of our specialty. Just as I attended my first EAST Annual Scientific Assembly, presented my first abstract, and published my first manuscript after submitting my work to my first EAST meeting in Disney over a decade ago, I want others to build their own paths. Donating to the Development Fund helps create pathways to career success for young surgeons.
Similar to seeing my kids do well in the classroom or on the ball field, it gives me the same pleasure knowing my gift has impacted the careers of young future trauma surgeons. I know that even a small gift now will pay tremendous dividends later. Pay it forward.

To learn more about Mark Seamon, MD, FACS and connect, please visit the EAST Member Directory from your EAST member profile.
---
Interested in sharing your EAST donor story with our community? Please submit the following form online. If you have any questions, please contact us.