Dr. Martin Zielinski
Thank you to Dr. Martin Zielinski for supporting the EAST Development Fund!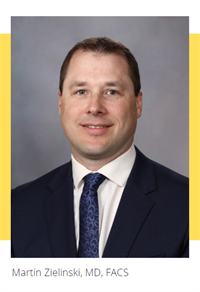 Donor Story
I give to EAST because EAST is my home. As a young trauma surgeon, finding your way in the professional world of academic surgery is challenging. Outside of the mentors and staff at my training programs, I knew no one. Talk about intimidating!
I can remember walking the halls of my first EAST Annual Scientific Assembly being amazed at the luminaries present. Look, there's Dr. Schwab! And over there is Dr. Holcomb! At other organizations, this is where the "contact" stops. EAST, however, lives up to its motto of "Advancing Science, Fostering Relationships, and Building Careers."
While intimidating, I have had the opportunity to speak with these and numerous other thought leaders in Acute Care Surgery. By fostering these relationships, I have made countless friends who I can rely on for the answers to my clinical and research questions. They are always willing to lend a helping hand because they know I will do the same for them.
This help extends to the EAST organization. I seize any opportunity I have to give back. Whether it is with my time or my money, giving to EAST is a priority; my investments will continue to return several-fold. Now, as a I roam the EAST halls, I smile at every familiar face comforted in knowing I have found my home in the trauma world.

To learn more about Martin Zielinski, MD, FACS and connect, please visit the EAST Member Directory from your EAST member profile.
---
Interested in sharing your EAST donor story with our community? Please submit the following form online. If you have any questions, please contact us.