Dr. Matthew Martin
Thank you to Dr. Matthew Martin for supporting the EAST Development Fund!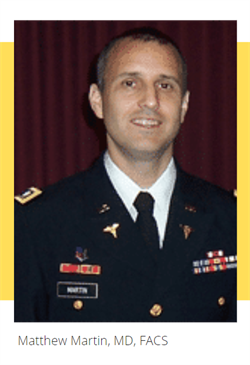 Donor Story
I donate to the EAST Development Fund because it benefits me. I don't mean as a doctor or surgeon, I mean as a citizen, husband, father, and possible future patient. EAST is about developing the next generation of physicians and surgeons who are on the front line of urgent and emergent care when you are ill or injured. It is about helping them transition from inexperience to confidence, and then to excellence. That is all I want for my family, or any patient that may present sick and scared.
While other organizations often focus on education for more junior members and leadership opportunities primarily for more senior members, EAST emphasizes the "holistic" approach to truly developing our young surgeons and other advanced practitioners as clinicians, educators, and leaders. So I get a "two-for-one" from donating to the EAST Development Fund - a sense of altruism and an investment in the future of high-stakes trauma and emergency surgery care.

To learn more about Matthew Martin, MD, FACS and connect, please visit the EAST Member Directory from your EAST member profile.
---
Interested in sharing your EAST donor story with our community? Please submit the following form online. If you have any questions, please contact us.