Dr. Nicole Stassen
Thank you to EAST Past President Dr. Nicole Stassen for supporting the EAST Development Fund!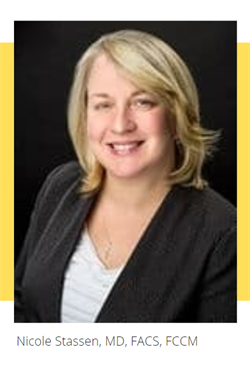 Donor Story
EAST is me, and I am EAST…
The mission statement of EAST reads: "EAST is a scientific organization providing leadership and development for young surgeons active in the care of the injured patient through interdisciplinary collaboration, scholarship, and fellowship."
EAST has been my professional home since I attended my first meeting over a decade ago. I could write a novel and still have more to say about how EAST has enhanced my development as a person, surgeon, leader, mentor, educator, and researcher. The relationships that I have formed through EAST have been invaluable.
Donating to the EAST Development Fund has been one way for me to give back to this outstanding organization. The Development Fund is an essential resource that allows EAST to continue to be innovative in its support and development of the young surgeon active in the care of the injured patient, so they can continue to take our field to newer and better places.
Burton Harris in his EAST Presidential Address stated that we are only the current link in a long chain that goes back through generations, a chain which we have the solemn obligation to perpetuate. I am a proud link in this chain and look forward to continuing to "Pay it Forward" to EAST for many years to come.

To learn more about EAST Past President Nicole Stassen, MD, FACS, FCCM and connect, please visit the EAST Member Directory from your EAST member profile.
---
Interested in sharing your EAST donor story with our community? Please submit the following form online. If you have any questions, please contact us.