Dr. Robert Barraco
Thank you to Dr. Robert Barraco for supporting the EAST Development Fund!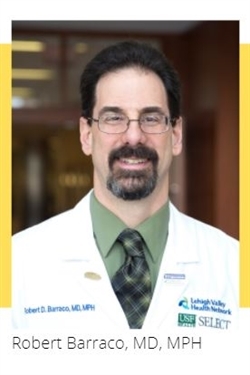 Donor Story
Why did I decide to become a Milestone Donor for the Eastern Association for the Surgery of Trauma? Simple: EAST delivers.
It delivers on its promise to be an organization that develops young surgeons. By the very nature of its membership structure, with Active and Mentor members, this commitment is ensured. Elected offices are reserved for our young leaders. These young leaders are the future of our specialty and profession. And I want to be certain that these young leaders are equipped with all that EAST can give them. When I first came to EAST, they helped me attain the skills necessary to become a leader, first as part of a committee, then leading a subgroup of a committee, then Chair of a committee and a member of the Board of Directors, and finally as President for the EAST Foundation and Chair of the Development Committee during its transition. All along the way, I was allowed much autonomy in performing my duties but always knew there was someone there beside me and someone who came before me to help if I had a question. I believe I owe a large part of my career success to EAST.
EAST delivers on improving the care of the injured patient by scholarly activity and research. EAST funds several scholarships for the young investigator to get started on critical projects that influence our knowledge and care of our patients. And we would like to fund even more! Topics have included sepsis, sympathetic hyperactivity after severe brain injury, reducing youth violence, and reducing crashes from elderly drivers to name a few. The complete list can be found on our website.
It delivers on meaningful relationships. That is why I continue to give as a Mentor member, even if I can't hold an office any longer. One word applies here: FAMILY. EAST feels like home to me. From the very beginning, EAST allowed me to develop relationships with mentors and colleagues I never would have had the opportunity to meet otherwise. And not only to meet but to have meaningful relationships with them that helped me in my career as well as in the rest of living life as an acute care surgeon. Many I certainly call friends now and I am so much the better for it. Thank you, EAST.
So, when you have many worthy organizations competing for your finite charitable giving dollars, you want to know that the organization has values consistent with your own, a clear mission, and that you can see tangible deliverables for the funds you are investing. You also want to feel a part, even like family. On all of these points, EAST delivers.

To learn more about Robert Barraco, MD, MPH and connect, please visit the EAST Member Directory from your EAST member profile.
---
Interested in sharing your EAST donor story with our community? Please submit the following form online. If you have any questions, please contact us.