Dr. Robert D. Winfield
Thank you to Dr. Robert Winfield for supporting the EAST Development Fund!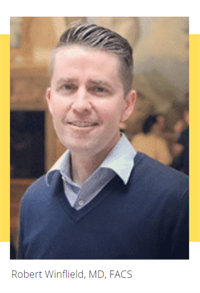 Donor Story
When I attended my first EAST Annual Scientific Assembly in 2008, I was a research resident preparing to present in front of a national audience for the third time ever. I realized very early on that this group was different: people were dressed in Hawaiian shirts, there was a dodgeball tournament, and in the breakfast line each morning, prominent trauma surgeons were there with their children in tow.
Over the next nine years, EAST has given me more than I could ever hope to repay: great clinical trauma education through the Annual Scientific Assembly and online resources; workshop training that aided me in my career as a surgeon-scientist; preparation for a career of service through a Leadership Development Workshop scholarship; and opportunities to engage in and lead EAST committees, most recently as the Chair of Research and Scholarship.
While I am unwaveringly grateful for these experiences, what makes EAST special for me is the atmosphere that I noticed during that first Annual Scientific Assembly. It felt like an extended family then, and this feeling only strengthens for me with each year that passes. For all of these reasons, I am proud to support the EAST Development Fund; I could never give back as much as I have received, but hopefully my contributions help support this outstanding organization in its critical mission of supporting young trauma surgeons.

To learn more about Robert Winfield, MD, FACS and connect, please visit the EAST Member Directory from your EAST member profile.
---
Interested in sharing your EAST donor story with our community? Please submit the following form online. If you have any questions, please contact us.