Dr. Ruby Skinner
Thank you to Dr. Ruby Skinner for supporting the EAST Development Fund!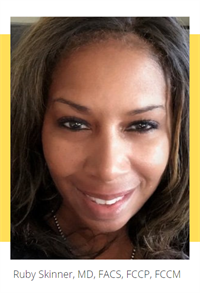 Donor Story
I donate to EAST because over the last decade I have seen incredible growth in the outreach of the organization.
I am a trauma surgeon at a busy Level II community-based trauma center, and I interact with trauma providers from remote trauma centers all over the western part of the United States. Despite the fact that those trauma providers are from non-academic remote hospitals, many of them use EAST's online education and PMG resources, which facilitates the application of evidenced-based care at their institutions.
I find this type of outreach and impact to be invaluable in promoting quality care to the trauma community at large. The organization not only promotes the growth and development of EAST members, but more importantly has become a standard resource that is accessible and provides timely education and guidelines to a much larger surgical community.

To learn more about Ruby Skinner, MD, FACS, FCCP, FCCM and connect, please visit the EAST Member Directory from your EAST member profile.
---
Interested in sharing your EAST donor story with our community? Please submit the following form online. If you have any questions, please contact us.