Dr. Suresh Agarwal
Thank you to Dr. Suresh Agarwal for supporting the EAST Development Fund!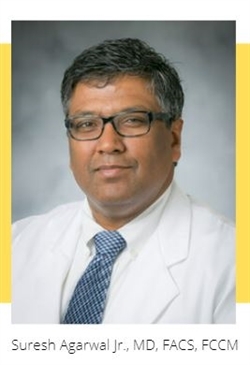 Donor Story
EAST's mission to encourage, develop, and mentor the future of Trauma and Acute Care Surgery is one that inspires me. I was fortunate to have had excellent mentors throughout my career, including a few founders and past presidents of EAST. To paraphrase Isaac Newton, "The only reason that I can see so far is that I have stood on the shoulders of giants." EAST develops the next generation of leaders in our field and giving back seems to be the best way to cultivate the environment in which these individuals can grow and prosper.
To learn more about Suresh Agarwal Jr., MD, FACS, FCCM and connect, please visit the EAST Member Directory from your EAST member profile.
---
Interested in sharing your EAST donor story with our community? Please submit the following form online. If you have any questions, please contact us.