Dr. Tanya Zakrison
Thank you to Dr. Tanya Zakrison for supporting the EAST Development Fund!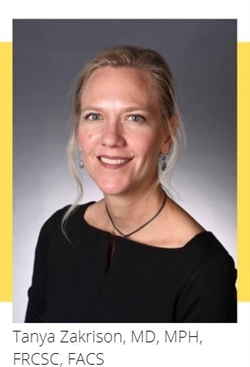 Donor Story
EAST has always been a special organization to me. The individuals who are members and leaders are both down to earth and brilliant. EAST is the kind of bold organization that not only encourages us to think outside of the box, they question the need for any box in the first place.

I am humbled and will always be grateful for being awarded the EAST Leadership Development Workshop Scholarship, the EAST/American College of Surgeons Executive Leadership Scholarship with Brandeis University, and the Cox-Templeton Injury Prevention Paper Competition award.
It's our job to pay it forward now and support the next generation of surgeon scientists to collectively envision and imagine the future of trauma surgery.

To learn more about Tanya Zakrison, MD, MPH, FRCSC, FACS and connect, please visit the EAST Member Directory from your EAST member profile.

---
Interested in sharing your EAST donor story with our community? Please submit the following form online. If you have any questions, please contact us.