Dr. Thomas Duncan
Thank you to Dr. Thomas Duncan for supporting the EAST Development Fund!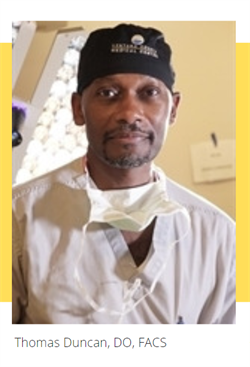 Donor Story
EAST stands out in its approach to supporting the growth and development of up-and-coming surgeons. By encouraging committees that conduct cutting-edge research, EAST gives surgeons the opportunity to partake in meaningful PMGs and scientific statements that create worldwide changes in medicine. The atmosphere at each EAST Annual Scientific Assembly is relaxed yet impacted with thought-provoking papers and on-point discussions that offer day-to-day applicable conclusions.
As a part of the EAST team that provides injury prevention outreach efforts to local communities at each year's scientific assembly, I have seen our efforts grow from a handful of volunteers to a multidisciplinary team of over 50 over the past several years. Local communities have benefitted from distracted driving, law enforcement, and polysubstance abuse events to the most recent 'Stop the Bleed' training and active shooter event.
My giving to EAST is done without hesitation as I realize that it benefits the entire trauma body in the long run. It is only through such giving measures that we will be able to continue the meaningful work that continues to be provided by EAST members.
---
Interested in sharing your EAST donor story with our community? Please submit the following form online. If you have any questions, please contact us.