Dr. Vanessa Ho
Thank you to Dr. Vanessa Ho for supporting the EAST Development Fund!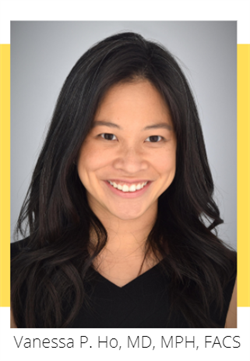 Donor Story
EAST has been the organization that helped to shepherd me from a trainee to a more confident academic trauma surgeon. I've participated in so many of the career development opportunities from the leadership development workshop, to writing a guideline, to the "No Suits" session, and presenting research. But it's the people who are the most important, and I value these friendships built through EAST.
I believe in the mission and the programs, and I donate to pay it forward!

To learn more about Vanessa P. Ho, MD, MPH, FACS and connect, please visit the EAST Member Directory from your EAST member profile.

---
Interested in sharing your EAST donor story with our community? Please submit the following form online. If you have any questions, please contact us.