Dr. William Chiu
Thank you to Dr. William Chiu for supporting the EAST Development Fund!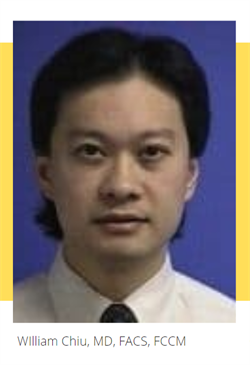 Donor Story
Earlier this week, I was moderating a Research Meeting with our 10 new Surgical Critical Care Fellows. One of them asked me if she should join EAST. I responded by saying that everyone in the room should join EAST! I could not say this about any other national organization.
I was once a young trauma surgeon, and now I am a senior trauma surgeon. This is why I have been an EAST member for more than 20 years and continue to believe in EAST. In January 1998, I attended the 11th EAST Annual Scientific Assembly at Fort Myers, Florida to present an abstract. My new boss, EAST Past Director-at-Large Thomas Scalea, introduced me to EAST Past President William Fallon, Jr. and the EAST Careers in Trauma Committee Chair Michael Rotondo. The EAST Fellowships Listing was undergoing conversion from booklet form to electronic format for the internet using the technology application masterminded by Michael McGonigal. I was able to get involved, and the rest is now history.
"EAST is a scientific organization providing leadership and development for young surgeons active in the care of the injured patient through interdisciplinary collaboration, scholarship, and fellowship." In 2019, I will be attending the EAST Annual Scientific Assembly for the 20th time in 21 years, and I will continue to give back to the organization that was true to its mission in guiding my career development.

To learn more about William Chiu, MD, FACS, FCCM and connect, please visit the EAST Member Directory from your EAST member profile.
---
Interested in sharing your EAST donor story with our community? Please submit the following form online. If you have any questions, please contact us.