Juliet Altenburg, RN, MSN
Thank you to Juliet Altenburg for supporting the EAST Development Fund!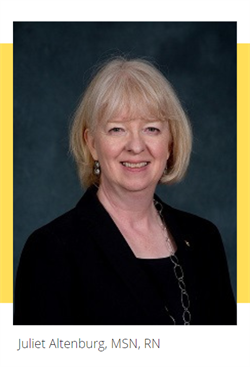 Donor Story
I have been an Associate EAST member since my time as a trauma program manager in a Level I trauma center in the 90's to my current statewide position as Executive Director of the Pennsylvania Trauma Systems Foundation.
What I have loved most about EAST is how it fosters growth in the area of research among young trauma professionals and continues to embrace the trauma nursing community through project collaborations and professional development.
I love being a cheerleader at the EAST Annual Scientific Assembly as I watch our PA researchers with pride as they showcase their work utilizing our statewide trauma registry. Thanks EAST!

To learn more about Juliet Altenburg, MSN, RN and connect, please visit the EAST Member Directory from your EAST member profile.
---
Interested in sharing your EAST donor story with our community? Please submit the following form online. If you have any questions, please contact us.