Doctor Sharven Taghavi
Recipient of the 2021 EAST Trauma Research Scholarship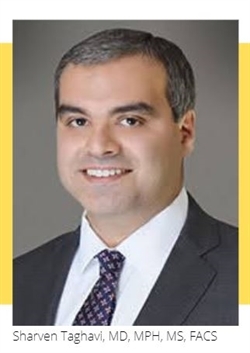 Testimonial
I joined EAST as a trainee after being introduced to the society and the Annual Scientific Assembly by some great trauma surgeon mentors. EAST has played a huge role in developing my academic career through great opportunities for early career surgeons such as the EAST Mentoring Program and the EAST Leadership Development Workshop.

EAST also plays a great role in developing surgeon scientists by providing funding to early career researchers through the EAST Trauma Research Scholarship as they try to obtain research independence. Donating to the EAST Development Fund helps ensure that our great field will continue to advance and develop the leaders of the future.
Area of Research: Engineered Mesenchymal Stem Cells for Acute Lung Injury

The EAST Trauma Research Scholarship is funded through contributions to the EAST Development Fund. To learn more about this award and past recipients, click here.
To hear from other recipients who have benefited from contributions to the EAST Development Fund, visit the Scholarship & Award Recipients page.
Help continue to support the work of deserving recipients working to change the future of trauma care by donating today.