Dr. Alison Smith
2021
EAST INVEST-C Program Participant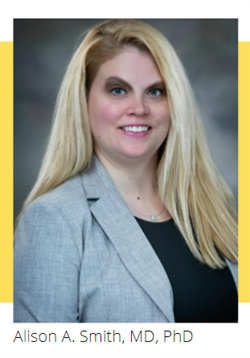 Testimonial
Participation in the EAST INVEST-C Research Hackathon was an eye-opening experience for me as a junior faculty member. The ability to speak candidly with leaders in trauma surgery who have walked the difficult path of becoming funded surgeon scientists has been truly invaluable to launching my own academic career. To hear about their experiences and obtain specific advice helped me to critically evaluate my research ideas and to develop a plan for my future efforts. I am grateful to EAST for providing this opportunity for young members interested in research careers.
The EAST INVEST-C program is funded through contributions to the EAST Development Fund. To learn more about this program, click here.
To hear from other recipients who have benefitted from contributions to the EAST Development Fund, visit the Scholarship & Award Recipients page.
Help continue to support the work of deserving recipients working to change the future of trauma care by donating today.