Dr. Andrew C. Bernard
Recipient of the 2007 EAST Trauma Research Scholarship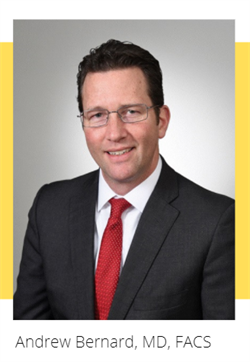 Testimonial
EAST means many things to many people. Everyone can find something new or exciting related to science, relationships, and careers.
One of the most transformative periods in my career was when I was doing translational research. That opportunity was made possible through the EAST Trauma Research Scholarship, funded by the EAST Development Fund.
The Fund makes opportunities like mine possible every day, and every EAST member can take advantage. That's something I want to be a part of. That's why I contribute and why I encourage others to do so as well. It affects EAST members in a positive way.
Area of Research: Transfusion and T-Cell Receptor Expression
The EAST Trauma Research Scholarship is funded through contributions to the EAST Development Fund. To learn more about this award and past recipients, click here.
To hear from other recipients who have benefited from contributions to the EAST Development Fund, visit the Scholarship & Award Recipients page.
Help continue to support the work of deserving recipients working to change the future of trauma care by donating today.