Dr. Andrew Young
2021
EAST INVEST-C Program Participant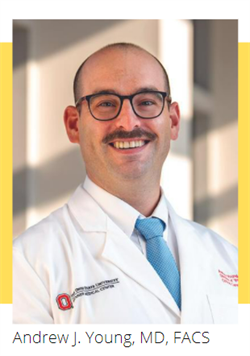 Testimonial
The EAST INVEST-C Research Hackathon has been a cornerstone in my research career. Not only does it accelerate the process of concept creation and refinement, but it affords you a glimpse into how this process is unfolding for other individuals. What would normally take 6 months with my schedule was done in 2 days. The EAST mentors are phenomenal, and the relationships you build in the Hackathon continue beyond the meeting.
The EAST INVEST-C program is funded through contributions to the EAST Development Fund. To learn more about this program, click here.
To hear from other recipients who have benefited from contributions to the EAST Development Fund, visit the Scholarship & Award Recipients page.
Help continue to support the work of deserving recipients working to change the future of trauma care by donating today.