Dr. Brandon Bruns
Recipient of the EAST GRADE Workshop Scholarship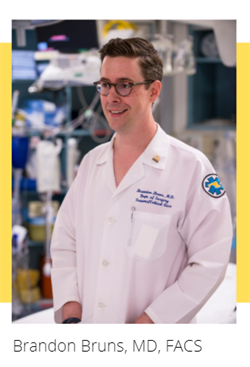 Testimonial
As an EAST GRADE Workshop Scholarship recipient, I learned the tools necessary to critically review medical literature. These skills helped me collaborate with other EAST members in developing clinical practice management guidelines. Perhaps more importantly, participating in the workshop strengthened my bonds with EAST and its members and allowed me to contribute meaningfully to the organization's ongoing endeavors.
The EAST GRADE Workshop Scholarship is funded through contributions to the EAST Development Fund.
To hear from other recipients who have benefited from contributions to the EAST Development Fund, visit the Scholarship & Award Recipients page.
Help continue to support the work of deserving recipients working to change the future of trauma care by donating today.