Dr. Douglas Fraser
Recipient of the EAST GRADE Workshop Scholarship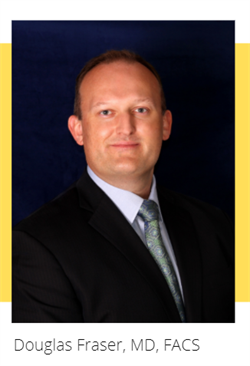 Testimonial
As a recipient of the EAST Grade Workshop Scholarship, I am extremely grateful for the opportunities it provided me early on in my career. One of the most valuable things EAST has to offer besides world-class educational opportunities, is the networking and platform to bring colleagues together who are passionate about caring for patients. Without EAST and the available funding through scholarships, many surgeons would not be where they are today - a truly impressive and giving organization. Thank you EAST!
The EAST GRADE Workshop Scholarship is funded through contributions to the EAST Development Fund.
To hear from other recipients who have benefited from contributions to the EAST Development Fund, visit the Scholarship & Award Recipients page.
Help continue to support the work of deserving recipients working to change the future of trauma care by donating today.