Dr. John Como
Recipient of the EAST GRADE Workshop Scholarship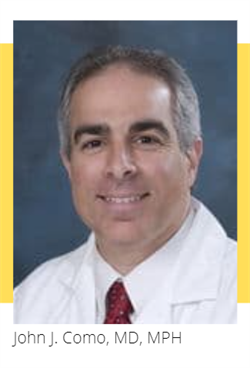 Testimonial
The EAST Development Fund has been valuable to me in shaping my career as an academic trauma surgeon. I received two awards from this Fund in 2012. The first was the EAST Grading of Recommendations Assessment, Development and Evaluation (GRADE) Workshop Scholarship. This course taught me the principles of guideline development and gave me the background I needed to become the Trauma Guidelines Task Force leader and eventually Chair of the Guidelines Committee from 2018-2021. Over 30 other such GRADE scholarships have been awarded to other EAST members, and this has resulted in many excellent practice management guidelines being published by EAST.
I also in 2012 received the American College of Surgeons/EAST Foundation Brandeis University Leadership Conference in Health Policy and Management Scholarship. This conference gave me the opportunity to learn the principles of health care management from some of the world's experts in health care policy and management. I have used this knowledge to become involved in many hospital committees and also may locoregional and national leadership positions, including my previous position as the president of the Ohio Chapter of the American College of Surgeons.
The EAST GRADE Workshop Scholarship is funded through contributions to the EAST Development Fund.
To hear from other recipients who have benefited from contributions to the EAST Development Fund, visit the Scholarship & Award Recipients page.
Help continue to support the work of deserving recipients working to change the future of trauma care by donating today.