Dr. Joshua Brown
2020
EAST INVEST-C Program Participant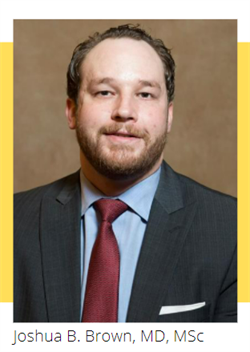 Testimonial
The INVEST-C Hackathon is a unique opportunity from EAST, unlike one I've seen anywhere else. The intensive time spent with the mentors gaining their real-world insight into the research and funding process coupled with one-on-one time to really drill down on your specific project is invaluable. The workshop helped me take my research in a different direction that I had not really considered. Even after the program ended, my mentors continued to follow up and helped me network with key people for potential funding opportunities. My project that grew out of the INVEST-C program has recently been funded by the Department of Defense as my first large grant. This program helped to launch my academic career and reach my goal of becoming an extramurally funded surgeon scientist. It's clear from day one that the EAST mentors are wholly invested in your success, a theme I've seen over and over since joining EAST as a medical student. I cannot recommend this program enough for trauma and acute care surgeons looking to kickstart their academic career.
The EAST INVEST-C program is funded through contributions to the EAST Development Fund. To learn more about this program, click here.
To hear from other recipients who have benefited from contributions to the EAST Development Fund, visit the Scholarship & Award Recipients page.
Help continue to support the work of deserving recipients working to change the future of trauma care by donating today.