Dr. Julia R. Coleman
Recipient of the EAST Oriens Award (2023 Fellow Award Winner)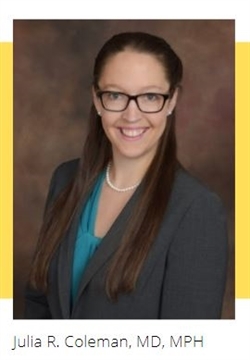 Testimonial
As the 2023 Oriens Fellow Essay winner, I was afforded the opportunity to come to the annual EAST assembly to share why I want to be a trauma acute care surgeon. While I have been at the podium before, this time was different - I shared a deeply personal and vulnerable story about being on the other side of patient care and there is no other audience I would want to do this with than the family I have found at EAST.

EAST has supported me through the years, and this has allowed me to build a network that led to my fellowship and first job, research collaborations that continue to empower my science, and annually energizes me to be the best I can for my patients. I will forever be grateful for the family I've found at EAST and in the Oriens circle.
Read Dr. Coleman's Essay.
The EAST Oriens Award is funded through contributions to the EAST Development Fund. To learn more about this award, click here.
To hear from other recipients who have benefited from contributions to the EAST Development Fund, visit the Scholarship & Award Recipients page.
Help continue to support the work of deserving recipients working to change the future of trauma care by donating today.