Dr. Marie Crandall
Recipient of the EAST GRADE Workshop Scholarship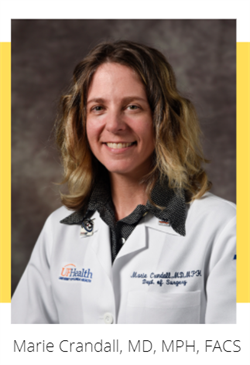 Testimonial
I feel very fortunate to have received the EAST GRADE Workshop scholarship in 2015. It afforded me the opportunity to really understand the principles of GRADE, including PICO question creation, literature review and summarization, and creating consensus recommendations. It was also a terrific opportunity to network with physicians outside of surgery and trauma surgery, and helped increase the impact of my contributions to the EAST Guidelines Committee.
The EAST GRADE Workshop Scholarship is funded through contributions to the EAST Development Fund.
To hear from other recipients who have benefited from contributions to the EAST Development Fund, visit the Scholarship & Award Recipients page.
Help continue to support the work of deserving recipients working to change the future of trauma care by donating today.