Dr. Mayur Patel
Recipient of the 2013 EAST Trauma Research Scholarship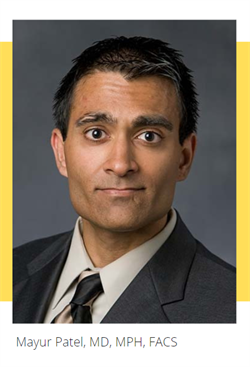 Testimonial
The EAST Trauma Research Scholarship is a key investment in motivated trauma surgeon-scientists.
Here's the math: This $40K scholarship raised confidence in my institution to award me a $300K Career Development Award, and I've parlayed this capital into my $3M 5-year Single PI NIH R01 grant (INSIGHT-ICU: GM120484), the first in our Vanderbilt Division of Trauma's >30-year history – all within 3 years of the conclusion of EAST's support. Excluding other associated small awards, that's a >75-fold return on investment, which more importantly serves to advance and elevate the science for our injured patients.
Area of Research: DASH After TBI Study: Decreasing Adrenergic or Sympathetic Hyperactivity After Severe Traumatic Brain Injury, A Pilot Randomized Controlled Trial Using Propranolol and Clonidine
The EAST Trauma Research Scholarship is funded through contributions to the EAST Development Fund. To learn more about this award and past recipients, click here.
To hear from other recipients who have benefited from contributions to the EAST Development Fund, visit the Scholarship & Award Recipients page.
Help continue to support the work of deserving recipients working to change the future of trauma care by donating today.