Dr. Michael Goodman
Recipient of the EAST Leadership Development Workshop Scholarship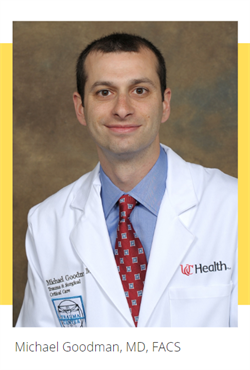 Testimonial
My participation in the EAST Leadership Development Workshop through the scholarship was instrumental in providing me with an active introduction to the complexities of working, teaching, and leading within health care systems. This course brought to the forefront all the otherwise untaught lessons critical to the career advancement of the young acute care surgeon outside of the provision of excellent patient care. Completion of this course gave me an ability to effectively serve in new administrative roles and continue my leadership education through the SUS Leadership Agility course.
The EAST Leadership Development Workshop Scholarship is funded through contributions to the EAST Development Fund. To learn more about this award, click here.
To hear from other recipients who have benefitted from contributions to the EAST Development Fund, visit the Scholarship & Award Recipients page.
Help continue to support the work of deserving recipients working to change the future of trauma care by donating today.