Dr. Robert Winfield
Recipient of the EAST Leadership Development Workshop Scholarship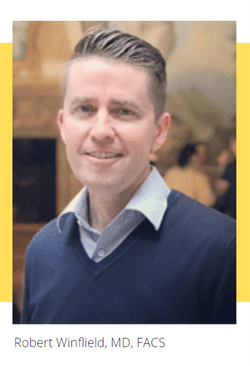 Testimonial
Not a week goes by when I don't utilize a strategy or remember a lesson learned from the EAST Leadership Development Workshop. Receiving a scholarship to attend this three-year course was foundational for me as I've taken on a variety of roles at my institution, in EAST, and in other surgical organizations. The course provided me with the tools needed to lead effectively, and I am grateful to the EAST Development Fund for their investment in my future.
The EAST Leadership Development Workshop Scholarship is funded through contributions to the EAST Development Fund. To learn more about this award, click here.
To hear from other recipients who have benefited from contributions to the EAST Development Fund, visit the Scholarship & Award Recipients page.
Help continue to support the work of deserving recipients working to change the future of trauma care by donating today.