Dr. Stephanie Bonne
2017
EAST INVEST-C Program Participant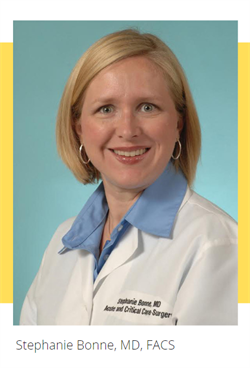 Testimonial
The EAST INVEST-C program was a real game-changer for me. This innovative program was unlike any other in that it allowed me the time and space to consider my research ideas and pathway in a supportive, collaborative, and positive environment with mentors who have had success and remember the challenges of being an early faculty member.

As a result of the program, I applied and was awarded my first society grant, which will no doubt be the seed that will allow my academic career to flourish. The quality and the dedication of the EAST senior members who participated in this program cannot be understated, and we all owe them a tremendous debt of gratitude!
The EAST INVEST-C program is funded through contributions to the EAST Development Fund. To learn more about this program, click here.
To hear from other recipients who have benefitted from contributions to the EAST Development Fund, visit the Scholarship & Award Recipients page.
Help continue to support the work of deserving recipients working to change the future of trauma care by donating today.