Dr. William C. Chiu
Recipient of the EAST GRADE Workshop Scholarship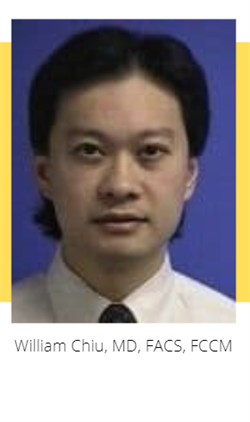 Testimonial
I would like to extend my sincere gratitude to EAST Past President and Past Guidelines Section Chair Dr. Elliott Haut, EAST Executive Director Christine Eme, and all EAST donors. In 2014, I was one of the recipients of the EAST GRADE Workshop Scholarship.

This educational workshop afforded me the knowledge and skills to actively participate in several EAST Practice Management Guidelines (PMG) projects, and I am in the process of leading a PMG development of my own.
(A traditional Japanese haiku is a 3-line poem with 17 syllables, written in a 5/7/5 syllable count. This poetic form captures a moment and creates a picture in the reader's mind. Often focusing on images from nature, haiku emphasizes simplicity, intensity, and directness of expression.)
Evidence-based care.
How to care for sick patients?
EAST PMGs lead!
The EAST GRADE Workshop Scholarship is funded through contributions to the EAST Development Fund.
To hear from other recipients who have benefited from contributions to the EAST Development Fund, visit the Scholarship & Award Recipients page.
Help continue to support the work of deserving recipients working to change the future of trauma care by donating today.