Town Hall Series
A Joint Initiative Between the AAST, EAST and the SCCPDS
In anticipation of the virtual job fair, the AAST Associate Member Council and EAST Mentoring Program presents the professional development townhall webinars. This series of webinars will offer pearls regarding the preparation of your application, refining your interview skills, as well as learning the right "fit" when it comes to securing your first job.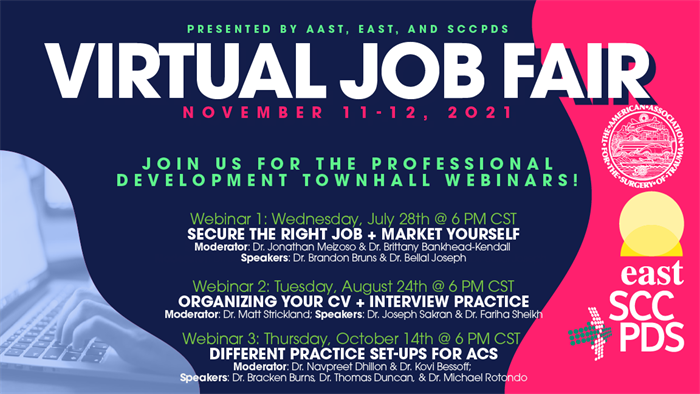 2021 Professional Development Town Hall Webinars
"Different Practice Set-ups for ACS"
Presented by Dr. Bracken Burns, Dr. Thomas Duncan, and Dr. Michael Rotondo
Moderated by Dr. Navpreet Dhillon and Dr. Kovi Bessoff
Thursday, October 14th, 2021 at 6 pm CST
Archived Professional Development Town Hall Webinars
Professional Development Townhall Series
"Organizing Your CV + Interview Practice"
Moderated by Dr. Matt Strickland & Dr. Linda Dultz
Presented by Dr. Joseph Sakran and Dr. Fariah Sheikh
Tuesday, August 24th, 2021 at 6 pm CST
Professional Development Townhall Series
"Secure the Right Job for You + Market Yourself"
Moderated by Dr. Jonathan Meizoso & Dr. Brittany Bankhead-Kendall
Presented by Dr. Brandon Bruns and Dr. Bellal Joseph
Wednesday, July 28th, 2021 at 6 pm CST
Professional Development Townhall Series "Do's and Dont's: Pearls for Interviewing & Finalizing an Agreement"
Moderated by Dr. Navpreet Dhillon
Presented by Dr. Kimberly Davis and Dr. Ryan Dumas
Wednesday, November 18th, 2020 From 3-4 pm CST
Professional Development Townhall Series "Marketing Yourself"
Moderated by Dr. Jonathan P. Meizoso
Presented by Dr. Matthew Martin and Dr. Brittany Bankhead-Kendall
Tuesday, November 10th, 2020 From 7-8 pm CST
Professional Development Townhall Series "Secure the Right Job for You"
Moderated by Dr. Julia Coleman
Presented by Dr. Linda Dultz and Dr. David Spain
Monday, October 26th, 2020 From 7-8 pm CST