University Hospital
Affiliated with University of Cincinnati — Cincinnati, OH
Trauma only
Critical Care only
Trauma & Critical Care
Acute Care Surgery
Advanced Practitioner
Duration: 1
Positions available: 2
Salary: PGY-6: $57,000
Program Director: Krishna Athota, MD, FACS
Last updated: September 25, 2018
---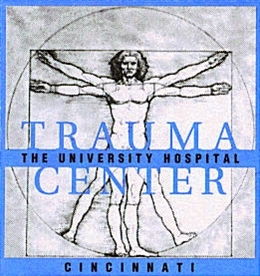 The one-year ACGME accredited surgical critical care fellowship program encompasses all aspects of care of the critically ill surgical patient, with emphasis on cardiopulmonary mechanics, principles of resuscitation, and advanced mechanical ventilation. University Hospital is the primary teaching facility for the surgical critical care fellowship. It is the tertiary referral hospital for southern Ohio, eastern Indiana, and northern Kentucky, serving a population of over 1.8 million with over 95,000 emergency department visits annually. The hospital also maintains the only ACS verified adult Level I trauma center and ABA verified adult burn center for the region.

University Hospital has approximately 100 adult critical care beds, distributed through the surgical, medical, neuroscience, and cardiovascular intensive care units. The surgical ICU (SICU) consists of 34 adult beds with 175-200 monthly admissions from all surgical specialties, including trauma, general surgery, acute care surgery, transplantation, surgical oncology, vascular surgery, urology, thoracic surgery, obstetrics/gynecology and ENT. Daily multidisciplinary rounds are collaborative in nature and include members of respiratory therapy, pharmacy, and nursing. Sub-specialty services, such as nephrology, infectious disease, rehabilitation medicine, cardiology, and hematology are available and consulted as needed. Additional clinical support in the SICU includes nutritional services, a nurse educator, and dedicated SICU social workers. The SICU serves as a critical care educational venue for a variety of residents from the University of Cincinnati and other regional programs as well as providers from the United States Air Forces Center for Sustainment of Trauma and Readiness Skills (CSTARS). Other critical care rotations include the Neuroscience Intensive Care Unit (NSICU) and the Pediatric Intensive Care Unit (PICU) at Cincinnati Children's Hospital Medical Center. The NSICU, staffed by dedicated neuro-intensivist, is a 20-bed unit specializing in the care of the neurologic/neurosurgical patient with tumor and skull base surgery, spine surgery, advanced neurovascular interventions, traumatic brain injury, seizure disorders, stroke and muscular-skeletal disorders. The PICU in the renowned Cincinnati Children's Hospital Medical Center is a 36 bed multidisciplinary unit for children beyond the newborn age. There are over 2000 combined medical and surgical admissions to the PICU annually, including 120 trauma patients brought to this Level I trauma facility. Other surgical patients cared for in the PICU include neurosurgical, airway reconstructive surgery, solid organ transplantation, and orthopedic patients. All forms of mechanical ventilatory support, including liquid ventilation and high frequency ventilation, renal dialysis, continuous veno-venous/veno-arterial ultrafiltration, and ECMO are available and employed as support modalities in this ICU.

Other venues for critical care education include the other adult units at University Hospital (Medical, Cardiovascular, Adult Burns) and the pediatric Shriner's Burn Institute. These can be arranged according to fellow interest and availability. Exposure to the care of the trauma patient is offered and encouraged during the one-year fellowship by participation on the busy, urban trauma service that evaluates over 3400 patients a year, 24% of which have a penetrating injury. Operative as well as leadership opportunities are available through call and elective rotations on this service.

The surgical critical care fellowship was reviewed by the ACGME in 2009 and was granted Continued Full Accreditation for five years, with no citations. Options for extending the fellowship for a second, non-ACGME accredited year are available and include acute care surgery, trauma, and advanced research with graduate level educational opportunities. Second year positions will be considered on an individual basis depending interest.
Program started 1988
How to apply
laura.richardson@uc.edu - (513) 558-5661 (phone) , (513) 588-3136 (fax)
Qualifications: Candidates for the Surgical Critical Care fellowship must have completed an accredited residency in general surgery. At this time, the fellowship is open only to residents who wil have completed an ACGME-accredited residency program. While, as a general rule, the ACGME allows third year residents to participate in surgical critical care fellowships, our faculty believe that the fellow will obtain the maximal benefit from the program after completing general surgery residency. In addition, the completion of the residency allows the fellow to participate fully in operative trauma cases during the critical care fellowship.
The application process for any of these fellowships includes a written or online application, at least three letters of recommendation, and a personal interview. One letter of recommendation must be from your Program Director; the others should be from individuals with first-hand knowledge of your skills and performance. Personal interviews begin in March of the year proceeding the initial fellowship year. Applications are made and interviews are arranged through the Division of Trauma/Critical Care.

The on-line application can be accessed at: http://surgery.uc.edu/content/Education/Critical_Care_Fellow4.html
About the hospital
Beds: 690
ICU beds: 100
Annual ED visits: 95000
Annual trauma admissions: 2875
Trauma faculty: 10
Fellowship procedures
Total surgical (annually): 1200
General surgical: 60%
Trauma: 40%
Blunt trauma: 76%
Penetrating trauma: 24%
Location
231 Albert Sabin Way
Cincinnati, OH 45267
Website