St. Joseph Mercy Ann Arbor
Affiliated with St. Joseph Mercy Health System — Ann Arbor, MI
Trauma only
Critical Care only
Trauma & Critical Care
Acute Care Surgery
Advanced Practitioner
Duration: One year
Positions available: 2
Salary: $59,375.00 for PGY-6 and above (2014-2015)
Program Director: Harry L. Anderson, III, M.D.
Last updated: February 10, 2015
---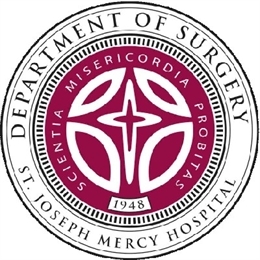 The Surgical Critical Care (SCC) Fellowship at St. Joseph Mercy Ann Arbor (SJMAA) is a new program accredited by the ACGME Residency Review Committee in Surgery. The program is a one year fellowship for surgeons who have completed an ACGME-approved general surgery residency. The program is based at St. Joseph Mercy Ann Arbor, a 537 bed tertiary care referral facility on a 340 acre campus in Superior Township, in Ypsilanti and Ann Arbor, Michigan. The program is based in the surgical intensive care unit (SICU), which is a 20 bed dedicated patient care area staffed by five Board Certified surgical intensivists. The SICU is located in the new North Patient Care Tower, which was opened in 2010. The SICU is a state-of-the-art unit for critically ill surgical patients, and supports a Level II Trauma Center, which has been continuously verified by the American College of Surgeons since 1998.

The SICU admits patients of multiple specialties, including trauma, general, vascular, hepatobiliary, colorectal, cardiac, and thoracic surgery, and also includes the subspecialties of neurosurgery, plastics, orthopaedics, urology and otorhinolaryngology. The SCC Fellow will also rotate in the Medical Intensive Care Unit (MICU), which is another new 20 bed patient care area (also located in the North Tower). Optional rotations include the Infectious Disease Consult Service at SJMAA, the recently renovated 30 bed Neonatal Intensive Care Unit (NICU) at SJMAA, which is a Level III newborn facility, and the Pediatric Intensive Care Unit (PICU) at the C.S. Mott Children's Hospital at the University of Michigan Health System. A rigorous didactic schedule throughout the year includes lectures dedicated to SCC education, including a Critical Care Journal Club and Critical Care Morbidity and Mortality Conference. The SCC Fellow will have some exposure to operative surgery, during care of Trauma and Emergency General Surgery patients in the SICU.

Ann Arbor and Ypsilanti are home to the University of Michigan and Eastern Michigan University. The community offers all the amenities of a college town, with easy transportation access (30 minutes to Detroit Metro Airport, a major gateway airport, and a local Ann Arbor Amtrak station), and proximity to major cultural destinations, and college and professional sports (the U-M Wolverines, the EMU Eagles, and the Detroit Lions, Tigers, and Red Wings).
Program started 2013
How to apply
harry.anderson@stjoeshealth.org - (734) 712-7352 (phone) , (734) 712-2054 (fax)
Qualifications: Eligible applicants should be about to complete, or will have completed an ACGME-approved general surgery residency program, and thus will be board eligible or board certified in surgery (ABS or the equivalent) at the time of proposed inception of the SCC Fellowship.
Applicants should send a CV, letter of interest and three letters of recommendation (one being the current surgery program director or department chairperson, as appropriate) to the Program Director.
Research opportunities
Participation in clinical research and activities in the SICU Quality and Safey initiative is expected, and at least one major project, with the SCC Fellow as the Principal Investigator, must be undertaken by the Fellow during the academic year. There are currently several projects with a scope of national and international institutional participation by the SICU and SJMAA (International Nutrition Survey, Michigan Health & Hospital Association Keystone Center, and the United States Critical Illness and Injury Trials Group (USCIIT), etc.) which are currently ongoing. One month will be dedicated to ongoing research at the Extracorporeal Circulation Laboratory of Dr. Robert H. Bartlett, Professor Emeritus of Surgery, at the University of Michigan Medical School.
About the hospital
Beds: 537
ICU beds: 78
Annual ED visits: 83857
Annual trauma admissions: 1300
Trauma faculty: 5
Fellowship procedures
Total surgical (annually): 20518
General surgical: 20%
Trauma: 3%
Blunt trauma: 94%
Penetrating trauma: 6%
Location
5301 E. Huron River Drive, STE 2428
Ann Arbor, MI 48106-0995
Website