Creighton Univeristy School of Medicine-Phoenix at Valleywise Health ( previously Maricopa Medical Center)
Affiliated with Creighton Univeristy — Phoenix, AZ
Trauma only
Critical Care only
Trauma & Critical Care
Acute Care Surgery
Advanced Practitioner
Duration: 1 year
Positions available: 2
Salary: (PGY-6 compensation)
Program Director: Paola G. Pieri, M.D., F.A.C.S.
Last updated: March 04, 2022
---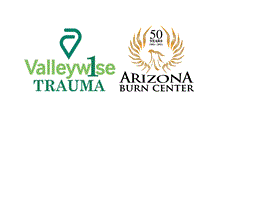 Valleywise Health (previously Maricopa Medical Center) Department of Surgery, Division of Burns, Trauma Surgery & Surgical Critical Care is offering an ACGME-accredited one 1-year Surgical Critical Care (SCC) Fellowship and one 1 -year Burn-Surgical Critical Care (BCC) Fellowship beginning each August 1st. Off-cycle candidates will also be considered if positions are available. Successful completion of the intense, multidisciplinary SCC or BCC program will qualify the Fellow for the American Board of Surgery Examination in Surgical Critical Care.
Valleywise Health Hospital is a busy, inner-city 326-bed acute care hospital that is an American College of Surgeons (ACS) Verified Level I Adult (https://valleywisehealth.org/services/emergency-and-trauma/trauma/; https://alliance.creighton.edu/residencies-fellowships/fellowship-programs/surgical-critical-care ). Our hospital is also home to the Arizona Burn Center (www.azburncenter.com), which is the second busiest Burn center in the country and an American Burn Association (ABA) and ACS Verified Level I Adult and Pediatric Burn Center ( https://valleywisehealth.org/arizona-burn-center-valleywise-health/ ). SCC and BCC fellows will also benefit from a cooperative educational relationship between the faculty of Valleywise Health Hospital and the Mayo Clinic Hospital (Arizona) Critical Care Unit, a private, highly specialized 244-bed healthcare facility. This rotation allows exposure to cardiothoracic, solid organ transplant, extra-corporeal membrane oxygenation (ECMO), and complex medical critical care patients. Each site has its own ACGME-accredited general surgery training program and provides continuous, in-house intensivist coverage serving as an additional educational resource for the SCC/BCC fellow.
A significant didactic curriculum and self-learning goals will be achieved under the guidance of board-certified surgical and medical/pulmonary/anesthesia critical care faculty. This intense, multi-disciplinary, multi-institutional approach will provide critical care educational exposure that includes the procedural and administrative skills necessary to care for critically-ill patients, manage intensive care units, teach educational curricula, and conduct quality critical care research. Furthermore, for candidates with prior general surgery training, the many facets of trauma and emergency-acute care surgery, as well as significant exposure to burn surgery will be provided in order to give each SCC fellow the opportunity to maintain their surgical skills and allow long-term flexibility with job opportunities as a board-certified surgeon and surgical intensivist.

Program started 2007
How to apply
Mindy_ Verdugo@dmgaz.org - (602) 344-5056 (phone) , (602) 344-5705 (fax)
Qualifications: Applicants must have successfully completed an ACGME-accredited graduate medical educational program prior to matriculation. Such programs include General Surgery, Thoracic Surgery or Vascular Surgery.
Interested individuals should send the following information:

For SCCR Fellowship Application:
https://safas-sccpds.fluidreview.com/
1. A letter of interest, including long-term goals,
2. An up-to-date curriculum vitae, and
3. Three letters of recommendation

For BCCR Fellowship application:
send letter of interest, CV, 3 letters of recommendation, ABSITE and USMLE scores and medical school transcript via email or certified mail to:
Paola G. Pieri, MD, FACS
paola_pieri@dmgaz.org
2601 E. Roosevelt Street
Phoenix AZ, 85008
Phone: 602-344-5056 Fax: 602-344-5705

Selected applicants are invited to interview on an individual basis. The interview includes briefing by the Program director, interviews with Attending physicians from Valleywise Health and Mayo hospitals Critical Care division, an informal lunch and a tour of the hospital.

For further information please contact Program Director:
Paola G. Pieri, MD, FACS
paola_pieri@dmgaz.org
602-344-5056

Research opportunities
Each Fellow has a requirement of completing at least one QI project during the year. Additional opportunities to do clinical research in Burn and Trauma services
About the hospital
Beds: 326
ICU beds: 47
Annual ED visits: 54000
Annual trauma admissions: 1600
Trauma faculty: 14
Fellowship procedures
Total surgical (annually): 150
Blunt trauma: 70%
Penetrating trauma: 30%
Location
2601 East Roosevelt Street
Phoenix, AZ 85008