Raymond H. Alexander, MD Resident Paper Competition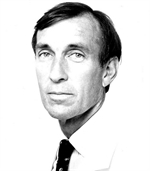 Raymond H. Alexander MD received his undergraduate degree from Princeton University and his MD from Duke. Following military service to the country, he moved to Jacksonville as one of the first board certified vascular surgeons in the state of Florida. Dr. Alexander was medical director of the trauma program and Chief of Surgery at the University of Florida Health Science Center in Jacksonville. He also served as medical director of Florida's Emergency Medical Services office. His accomplishments included fostering a statewide trauma system before his untimely death to cancer in 1992.
In addition to the EAST Resident Paper Competition, several other awards and honors bear his name, a testament to his impact on trauma care. The Raymond H. Alexander Medical Director of the Year is given by Florida Department of Health's Bureau of Emergency Medical Services to a physician who assumed a leadership role in EMS with the community or nationally and demonstrates excellence in the areas of quality assurance/improvement and medical control, as well as the promotion and use of new medical trends and technologies. The American College of Surgeons Florida Chapter annually presents the Raymond H. Alexander, MD Award to a surgeon for outstanding dedication and service to the medical profession in the field of surgery, as exemplified by the devoted and unselfish life of Dr. Ray Alexander. The Florida Committee on Trauma holds the Annual Raymond Alexander Visiting Professor, a traveling series of Grand Rounds lectures by a national expert who visits trauma centers across the state over one week.
Dr. Alexander was one of ten surgeons recognized as a Founding Board Member of EAST.
His lifelong dedication to organized care for the injured is an inspiration to the membership and friends of EAST. The Annual EAST Resident Paper Competition held during the Annual Scientific Assembly of the Eastern Association for the Surgery of Trauma is named in his honor.
Award Recipients
2023 - Basic Science Recipient

James Williams, MD
Pectin Based Biologic Velcro Effectively Seals Traumatic Solid Organ and Small Bowel Injuries

2023 - Clinical Science Recipient

Maggie Bosley, MD
Reclaiming the Management of Common Duct Stones in Acute Care Surgery

2023 - Honorable Mention

Arthur Berg, DO
Statistical Power of Randomized Controlled Trials (RCT) in the Field of Trauma Surgery

2022 - Basic Science Recipient




Taylor Wallen, MD
Effects of Anti-Fibrinolytic Therapy on Systemic and Neuroinflammation After Traumatic Brain Injury

Dr. Wallen donated $500 of the $750 award to the Wounded Warrior Project.

2022 - Clinical Science Recipient

Mary K. Bryant, MD
Outcomes After Emergency General Surgery and Trauma Care in Incarcerated Individuals: An EAST Multi-Center Study

2022 - Honorable Mention

Matthew Culkin, BS
Persistent Blunting of Neutrophil Mobilization to the Blood-Brain Barrier by Beta Blockade Weeks After TBI

2021 - Basic Science Recipient

Alexandra L. Dixon, MD, MPH

FFP Maintains Normal Coagulation While PCC Induces a Hypercoagulable State in a Porcine Model of Pulmonary Contusion and Hemorrhagic Shock

2021 - Clinical Science Recipient

James P. Byrne, MD, PhD

Association Between Pediatric Trauma Center Care and Motor Vehicle Crash Death in Children: An Ecologic Analysis of US Counties

2020 - Basic Science Recipient

Julia R. Coleman, MD, MPH
Actin Associated with Tissue Injury in Trauma Patients and Produces a Hypercoagulable Profile In Vitro

2020 - Clinical Science Recipient

CPT Patrick McCarthy, MD
Double Blinded Randomized Controlled Trial: Does Hypertonic Saline Resuscitation in Trauma Following Damage Control Laparotomy Attenuate Inflammation?

2019 - Basic Science Recipient

Woo S. Do, MD
Preperitoneal Balloon Tamponade and Resuscitative Balloon Occlusion of the Aorta: Alternatives to Open Packing for Pelvic Fracture-Associated Hemorrhage

2019 - Clinical Science Recipient

Vijaya T. Daniel, MD, MPH
Association Between Enhanced Overnight Operating Room Access and Mortality for True Life-Threatening Surgical Disease

2018 - Basic Science Recipient

John P. Kuckelman, DO
Plasma Co-Administration Improves Resuscitation with Tranexamic Acid or Prothrombin Complex in a Porcine Hemorrhagic Shock Model

2018 - Clinical Science Recipient

Rachel L. Warner, DO
FVC <1: A Mark for High Risk Patients

2017 - Basic Science Recipient

Matthew L. Leatherman, DO
Bigger is Better: Comparison of Alternative Devices for Tension Hemopneumothorax and Pulseless Electrical Activity in a Yorkshire Swine Model

2017 - Clinical Science Recipient

Joshua B. Brown, MD, MSc
Distance Matters: Effect of Geographic Trauma System Resource Organization on Fatal Motor Vehicle Collision

2016 - Basic Science Recipient
Kyle K. Sokol, MD
There's an App for That: A Handheld Smartphone-based Infrared Imaging Device to Assess Adequacy and Level of Aortic Occlusion

2016 - Clinical Science Recipient
Simon M. Glasgow, MBBS
Push Over Pull: Managing the Surge in Demand for Blood Following Mass Casualty Events

2015 - Basic Science Paper Recipient

Sean P. McCully, MD, MS
Effect of Ascorbic Acid Concentrations on Hemodynamics and Inflammation Following Lyophilized Plasma Transfusion

2015 - Clinical Science Paper Recipient

Samuel Wade Ross, MD, MPH
Quantifying the Effect of Crystalloid Resuscitation on Lactate and Base Deficit in a Human Model for Class Hemorrhage


2014 - Recipient

David A. Hampton, MD, MEng
Cryopreserved Red Blood Cells are Superior to Standard Liquid Red Blood Cells

2014 - Honorable Mention

Sharven Taghavi, MD
"Permissive Hypoventilation" in a Swine Model of Hemorrhagic Shock

2013 - Recipient

Tim H. Lee, MD
Hypertonic Reconstituted Lyophilized Plasma is an Effective Low Volume Hemostatic Resuscitation Fluid for Trauma

2013 - Honorable Mention

Robert Van Haren, MD
Hypercoagulability After Thermal Injury

2012 - Recipient
Shreyas K. Roy, MD, CM
Preventative Ventilation Prior to Lung Injury Averts ARDS: A Novel Timing-Based Strategy of Ventilator Therapy

2012 - Honorable Mention
Priya Prakash, MD


Human Microparticles Generated During Sepsis in Critically Ill Patients are Neutrophil-Derived and Modulate the Immune Response

2011 - Recipient
Matthew D. Neal, MD
The Crystalloid/Packed Red Blood Cell Ratio Following Massive Transfusion: When Less is More

2011 - Honorable Mention
Edward J. Hannoush, MD
Impact of Enhanced Mobilization of Bone Marrow Derived Cells to Site of Injury

2010
Nicholas Spoerke, MD
Red Blood Cells Accelerate The Onset Of Clot Formation In Polytrauma and Hemorrhagic Shock

2009
Tania K. Arora, MD
L-Arginine Infusion During Resuscitation For Hemorrhagic Shock: Impact & Mechanism

2008
Mark Gunst, MD
Accuracy of Cardiac Function and Volume Status Estimates Using the Bedside Echocardiographic Examination in Trauma/Critical

2007
Michael Englehart, MD
Ketamine-Based Total Intravenous Anesthesia is Superior to Isoflurane in a Swine Model of Hemorrhagic Shock
2006
Mayur B. Patel, MD
Hemoglobin-Based Oxygen Carrier (HBOC) Use in Neurotrauma Care
2005
David R. King, MD
Pulmonary Artery Catheters Induce a Systemic Hypercoagulable State
2004
Bruce Crookes, MD
Can Muscle Near Infrared Spectroscopy (NIR) Identify the Severity of Shock in Trauma Patients?
2003
Mallory Williams, MD
The Role of cAMP and cGMP-Dependent Protein Kinase Pathways in Hydrogen Peroxide Induced Contractility of Microvascular Lung Pericytes
2002
David C. Cassada, MD
Adenosine A2A Analogue Improves Neurologic Outcome after Spinal Cord Trauma in the Rabbit
2001
Victor B. Kim, MD
Methylene Blue (MB) Improves Tissue Perfusion during Class IV Hemorrhagic Shock in Dogs
2000
Darryl Choo, MD
In Vivo Characterization of the Molecular-Genetic Changes in Gastric Mucosa during the Development of Acute Gastritis and Stress Ulceration
1999

Randy J. Woods, MD
Hypothermic Aortic Arch Flush for Preservation of Brain and Heart during Prolonged Exsanguination Cardiac Arrest in Dogs
Mary B. Malay, MD
Low Dose Vasopressin (VP) in the Treatment of Refractory Septic Shock

1998
Margo C. Shoup, MD
Cyclooxygenase-2 Inhibitor (NS-398) Improves Survival and Restores Leukocyte Counts in Burn Infection
1997
C. S. Hultman, MD
Early But Not Late Burn Wound Excision Partially Restores Viral Specific T Lymphocyte Cytotoxicity
1996
Keith Clancy, MD
Down Regulation of Tissue Specific TNF-a in the Liver and Lung after Burn Injury and Endotoxinemia
1995
John Sweeney, MD
PMN Function in Injured Adults with Positive Candida Antigen Titers: Intact Autocrine Activation Despite Impaired Candida Killing
1994
Brian Plaisier, MD
Prospective Evaluation of Craniofacial Pressure in Four Different Cervical Orthoses
1993
Ian Hamilton, MD
Diaspirin Cross Linked Hemoglobin (DCLHb) is Superior to Lactated Ringers Solution, Haemaccel, and Blood Restoring Base Excess in Rats Resuscitated from Severe Hemorrhage