Message from the EAST President
Friday, March 10, 2023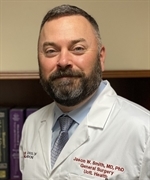 Transparency and Integrity
"Into whatever homes I go, I will enter them for the benefit of the sick, avoiding any voluntary act of impropriety or corruption…"
First, let me lead off with a warm welcome to all the new members and a heartfelt thank you to all who attended the 36th EAST Annual Scientific Assembly in Lake Buena Vista, Florida in January. I heard numerous comments across the meeting that the meeting "felt normal" and was a great experience. After all the turmoil over the last few years, "felt normal" is high praise and we are glad to be back there.
As this is my first message as President of EAST, I had planned for my entire message to be aimed at thanking the membership and discussing what EAST meant to me both personally and professionally. The members of this organization have become some of my best friends and confidantes across my career and I would be remiss if I didn't express my gratitude and appreciation for all of you.
I knew the topic of my inaugural message needed to change, however, after some recent events which occurred at another scientific meeting. These events centered around a question of integrity and transparency in scientific meetings, specifically regarding industry-physician partnerships, conflict of interest disclosures, and the corporate support of academic meetings.
Corporate funded research is a vitally important avenue for the advancement of science. Companies depend upon physician feedback and our partnership to deliver the best and safest products. Product evaluation in large multicenter studies is often required to demonstrate both the safety and the benefits of a new drug or medical device. While companies have a vested interest in the outcome of these studies, it is paramount that the researchers remain impartial to look out for the best interests of the patients they have dedicated their lives to serving. Our patients rely and trust on this impartiality.
The relationship between physicians and industry must never trump the relationship between physicians and our patients. As such, this relationship requires the highest degree of transparency. Transparency requires full disclosure of physicians' relationships and financial interactions with our industry partners in the conducting of related research. This disclosure is critical in the interpretation of the results and when acknowledged, is not an indicting factor in the research performed or its findings. However, the opposite of that statement is also true. When our relationships are not disclosed, it shades and tarnishes whatever results are produced. Without full and complete disclosures, the results of proper scientific research are undermined and questioned and thus ignored and marginalized.
I also want to acknowledge the fact that partnerships with industry are mutually beneficial to surgical organizations. Financially, many regional and national organizations have found themselves in a hard situation over the past few years due to the pandemic. Additionally, declining CME funding, reduction in travel support, and rising organizational expenses have eroded the foundation of many surgical organizations who traditionally carry over minimal financial reserves. Often, corporate sponsorship at annual scientific meetings has allowed these academic organizations to continue their tripartite missions of fellowship, education, and research. Also, by mutual benefit, the membership of surgical organizations around the country has benefited from having corporate partners demonstrating new technology that often enhances patient care. This occurs in an environment that is low-pressure, collegial, and allows for free discussion between organizations and surgical practices that may have already utilized the available technology.
Partnership and collaboration, however, must have boundaries. Scientific organizations and scientific journals cannot allow corporate entities any influence over the dissemination, discussion, or presentation of data. Sponsorship cannot be allowed to censor scientific programs and sponsorship cannot be allowed to buy results. I know almost all my colleagues possess the professional integrity to "do the right thing." They provide impartial results; they stand for academic freedom and for the free expression of research and ideas. It is imperative that organizations support them (as our colleagues recently did) when undue pressure is brought to bear. It is never an easy choice, but it is the right choice, and at its heart it is the decision of the organization that defines its integrity.
So, when you fill out your annual conflict of interest form at EAST or your own institution, take a minute to ask yourself, what does this form represent? I also encourage you to review your own data on www.openpaymentsdata.cms.gov and be transparent about it.
I ask you to remember that a lack of transparency (even a minor one) results in distrust and a deep sense of insecurity. Finally, remember and honor the oath and code that we all ascribed to once upon a time:
"Into whatever homes I go, I will enter them for the benefit of the sick, avoiding any voluntary act of impropriety or corruption…"
Best Wishes, and I am looking forward to a great year moving EAST forward.
Jason Smith, MD, PhD, MBA, FACS
President, Eastern Association for the Surgery of Trauma