Dr. Catherine Velopulos
Recipient of the
EAST/ American College of Surgeons Executive Leadership Scholarship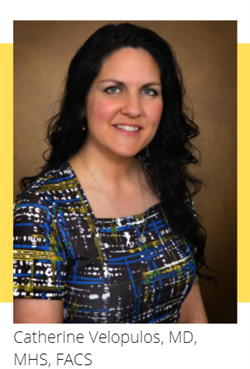 Testimonial
As one of the 2018-2019 ACS Health Policy Scholars for EAST, I gained priceless experience and made lasting connections with several rising surgical leaders across the country. The Leadership Program in Health Policy and Management at Brandeis University was a content-packed, intense week of gaining new appreciation for how we can and do affect policy, and how we can lead organizational efforts effectively whether in the local, regional, or national domains. The year culminated in the ACS Leadership and Advocacy Summit, with incredible networking opportunities and perspective-building as we work to advocate effectively for ourselves and our patients.
The EAST/American College of Surgeons Executive Leadership Scholarship is funded through contributions to the EAST Development Fund. To learn more, click here.
To hear from other recipients who have benefited from contributions to the EAST Development Fund, visit the Scholarship & Award Recipients page.
Help continue to support the work of deserving recipients working to change the future of trauma care by donating today.