Dr. Dale Butler
Recipient of the 2021 John M. Templeton, Jr., MD Military Call to Service Scholarship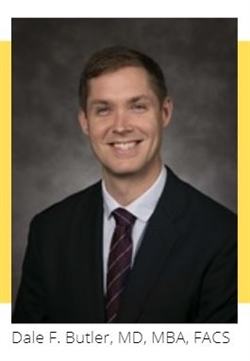 Testimonial
EAST was an inseparable component of my military service. As we served in remote areas, EAST became a lifeline to the greater surgical community. The John M. Templeton, Jr., MD Military Call to Service Scholarship specifically allowed me to remain engaged with my peers and mentors.

I can't thank the Templeton family enough!
This scholarship is made possible through the generous donation of long time EAST member, the late, John (Jack) M. Templeton, Jr., MD. To learn more about this award and past recipients, click here.
To hear from other recipients who have benefitted from contributions to the EAST Development Fund, visit the Scholarship & Award Recipients page.
Help continue to support the work of deserving recipients working to change the future of trauma care by donating today.

Support the EAST Development Fund