Dr. Leah C. Tatebe
Recipient of the 2023 John M. Templeton, Jr., MD Injury Prevention Research Scholarship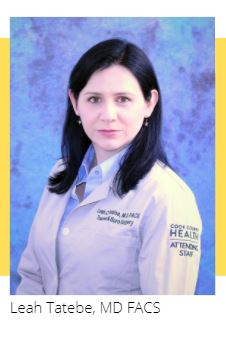 Testimonial
The John M. Templeton, Jr., MD Injury Prevention Research Scholarship offered through the EAST Development Fund is allowing me to gather pilot data to apply for additional funding. I truly appreciate EAST's commitment to injury prevention, a classically underfunded but critically important field.
It also allowed me to build a mentoring system with leading experts from across the country. This will be a foundational stepping stone for me as an injury prevention researcher.
You only need to look at the list of prior recipients to see the impact this scholarship has had!
This scholarship is made possible through the generous donation of long time EAST member, the late, John (Jack) M. Templeton, Jr., MD. To learn more about this award and past recipients, click here.
To hear from other recipients who have benefitted from contributions to the EAST Development Fund, visit the Scholarship & Award Recipients page.
Help continue to support the work of deserving recipients working to change the future of trauma care by donating today.

Donate