Dr. Shannon Foster
Thank you to Dr. Shannon Foster for supporting the EAST Development Fund!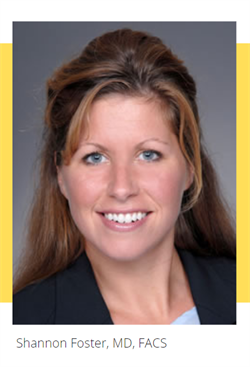 Donor Story
Why get involved? What good? Out of the many organizations we can belong to as medical professionals, EAST has always offered the whole package for the acute care surgeon. Whether at the Annual Scientific Assembly or through the many remote offerings, the education is relevant and timely, the mentoring natural and welcome, and the spirit of comradery unsurpassed.
I have been tagging along for this great ride since residency and am now proud to be a member and active participant. I've met so many wonderful people with whom I never otherwise would had the chance to engage.
When considering impact, our PMGs are used as the default by many, our membership is one of the most inclusive, and our outreach efforts tangibly help communities battle the constant onslaught of everyday danger: "It's worth a life. Don't drive distracted!" and "Stop the bleed!" are now common phrases nationally thanks to the work of this organization.
I strongly encourage all interested in the fields of trauma, surgical critical care, and acute care surgery to not only join but to raise your hand and ask loudly, "How can I be involved?" You won't be disappointed!

To learn more about Shannon Foster, MD, FACS and connect, please visit the EAST Member Directory from your EAST member profile.
---
Interested in sharing your EAST donor story with our community? Please submit the following form online. If you have any questions, please contact us.