Dr. Melike Harfouche
Recipient of the 2021 John M. Templeton, Jr., MD Injury Prevention Research Scholarship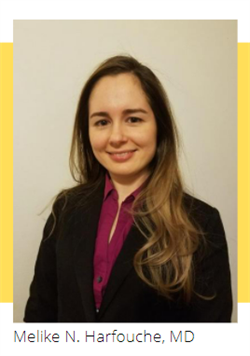 Testimonial
The John M. Templeton, Jr., MD Injury Prevention Research Scholarship has given me the impetus to really push forth into firearm injury research, something I had wanted to do for a while but had not been able to prioritize. Thanks to this scholarship, I have an even deeper understanding how to integrate research with a hospital-based violence intervention program. Because of the gracious support of EAST members, I have been able to forge meaningful relationships with key stakeholders in my hospital and local community to work towards studying meaningful interventions to reduce firearm injury.
This scholarship is made possible through the generous donation of long time EAST member, the late, John (Jack) M. Templeton, Jr., MD. To learn more about this award and past recipients, click here.
To hear from other recipients who have benefitted from contributions to the EAST Development Fund, visit the Scholarship & Award Recipients page.
Help continue to support the work of deserving recipients working to change the future of trauma care by donating today.

Support the EAST Development Fund