Annual Scientific Assembly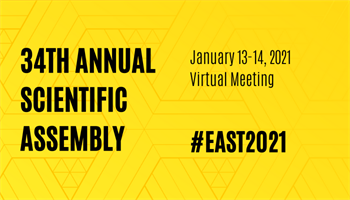 The 34th EAST Annual Scientific Assembly is available On Demand through March 31, 2021 to paid registrants via the virtual assembly platform.

Access virtual assembly

Log in with your Last Name and Badge Number provided in your registration confirmation. Contact registration@facs.org to obtain your registration confirmation.

Interested in registering and accessing content? Register now through March 31, 2021.

The virtual assembly includes more than 50 scientific paper presentations and named lectures. For information pertaining to the schedule of events, download the Scientific Schedule. CME is available.

The 34thEAST Annual Scientific Assembly featured:
The 35th EAST Annual Scientific Assembly
The 35th EAST Annual Scientific Assembly will be held January 11-15, 2022 at the JW Marriott Austin in Austin, Texas. Join the more than 850 individuals who attend each year! The assembly provides attendees a friendly, receptive atmosphere where they can participate in hands-on workshops, scientific sessions, networking events, outreach, and exhibits in order to improve the care of injured and critically ill patients.
---
Interested in Exhibiting?
Exhibiting at EAST gives you the opportunity to connect with hundreds of influential members of the trauma community. The amount of face-to-face physician interaction and caliber of the surgeons who attend, represents an exceptional value to your corporation.
---
Looking for information on past assemblies?
Click below to find the archives of past scientific assemblies including schedules, brochures, presidential addresses, instructions for retrieving your CME certificate, and more.