2012 Assembly Summary
The 25th EAST Annual Scientific Assembly was held January 10-14, 2012 at Disney's Contemporary Resort in Lake Buena Vista, Florida.
It Matters: The Case for Advocacy
by Erik S. Barquist, MD, FACS
The Trauma of Politics: A Surgeon General's Perspective
Richard Carmona, MD, MPH, FACS
17th Surgeon General of the United States (2002-2006)
A Military Thank You
To everyone at EAST,
I just wanted to take a few minutes and write an email to all of you within the EAST organization. Thank you for the wonderful experience in Orlando. It was an honor to stand in front of the EAST members in attendance. It was an amazing event and I was so happy that I could be part of it. We had a great time at the convention and we enjoyed meeting everyone and learning more about the organization.
I wanted to say thank you for everything you did for me and my wife and most importantly just being noticed and praised for my story. I owe my life to the amazing medical care that was provided to me from the moment I was shot until the present time. I am so thankful for all the members of EAST for developing, implementing, and carrying out the plans for medical care, not only for me- but also for every soldier that has fought in the current conflicts. — Paul Bartolome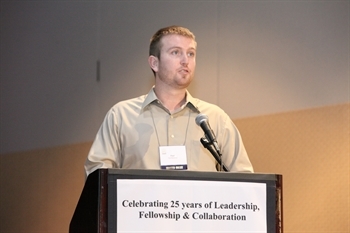 Paul Bartolome, pictured here, is the US Marine referenced in the history of the EAST Presidential Gavel Case. Paul attended the 25th EAST Annual Scientific Assembly and addressed the audience during the Gavel Case presentation. Paul's address to the audience was a highlight of the 25th EAST Annual Scientific Assembly.