Pay It Forward Day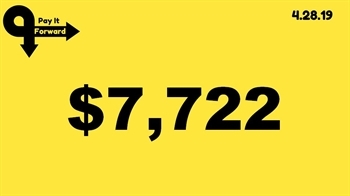 On April 28, 2019, EAST celebrated Pay It Forward Day, a global initiative that encourages people to perform acts of kindness for others without expecting anything in return. Instead, recipients are asked to pay the kindness forward to others, creating a ripple effect of giving.
This year, EAST members epitomized the spirit of Pay It Forward Day by raising $7,722 for the EAST Development Fund to support the next generation of trauma leaders working to improve the care of the injured patient.
Thanks to everyone's generous contributions, EAST can continue to offer valuable initiatives in research such as the EAST Trauma Research Scholarship and the EAST Multicenter Trials Junior Investigator Award, while developing tomorrow's leaders in trauma and acute care surgery through programs such as the EAST Leadership Development Workshop series.
When you consider that trauma is the leading cause of death in the USA among those 46 and younger, yet one of the most poorly funded areas of research relative to disease burden, it becomes clear that investment is required if advances in injury control and prevention are to be realized and the burden of disease reduced.
EAST does invest through scholarships and awards thanks to your generosity. Visit the EAST Development Fund page to learn more about the many ways that EAST supports trauma leaders who are committed to changing the future of trauma and find their stories below.
Thank you for your support!
Learn how your support benefits trauma care from our scholarship and award recipients
Dr. Lisa Kodadek
2019 EAST Oriens Award Fellow Winner
Mira Ghneim, MD
2019 EAST Multicenter Trial Junior Investigator Award Recipient
Susan Kartiko, MD, PhD
2018 EAST INVEST-C Hackathon Participant
Stephanie Bonne, MD
2018 John M. Templeton, Jr., MD Injury Prevention Research Scholarship Recipient